I started it for the first time on March 26th 2003. I got it off the table I built it on and took it for a very short ride on April 2nd, found a few bugs and ordered yet more parts. April 10th I finally get a good ride, 25 miles on a warm sunny day. It is a fun fun ride!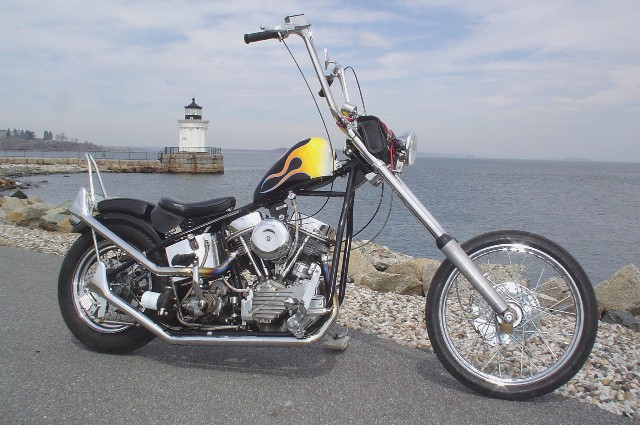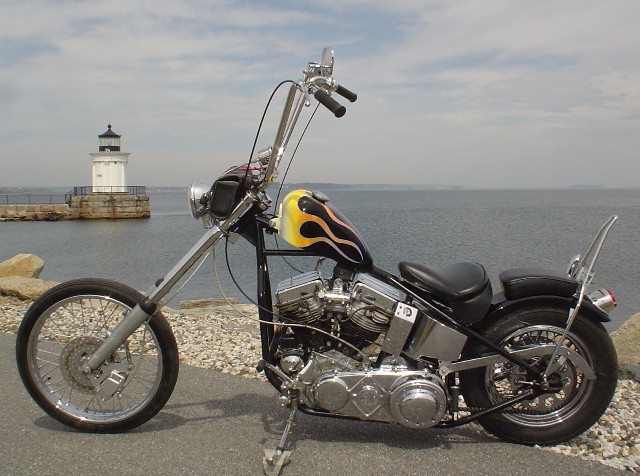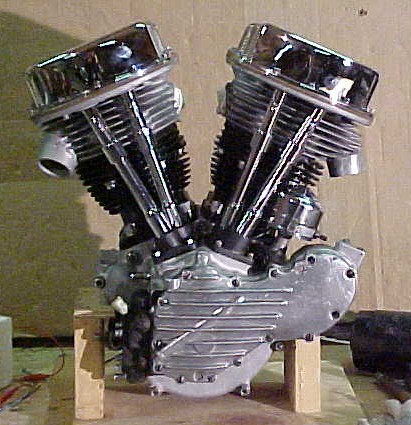 The start of this project was the 1948 cases I bought on E-bay in April 2002. I bought new Truett & Osborn 4 1/4 inch flywheels, new rods, 80" pistons and an Andrews cam. The 1948 heads, bought at the Keene (NH) swapmeet got new valves, guides, seats and exhaust ports.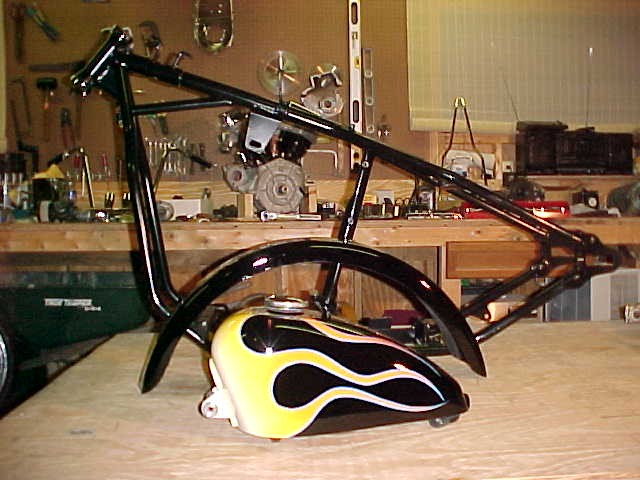 I wanted to build a late 60's/early 70's style chopper, so I went with ape hangers, upswept pipes and a sportster tank. I'm using a Paughco wishbone frame with 2 inch stretch and 10 degree rake, 10" overstock wide glide frontend and 70's disc brake wheels, 16" rear and 21" front.





Paint is finally back, February 20th 2003!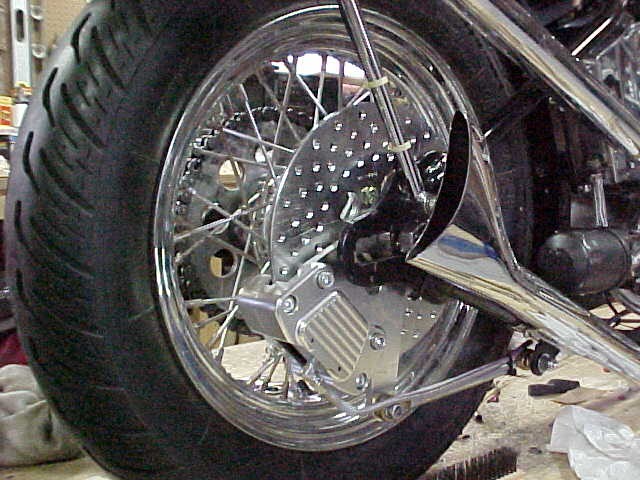 I wanted to avoid billet parts, but I wanted good brakes, so went with a GMA calipers. They don't make one for old Hydra-glide legs, so I adapted a rear caliper to the front end.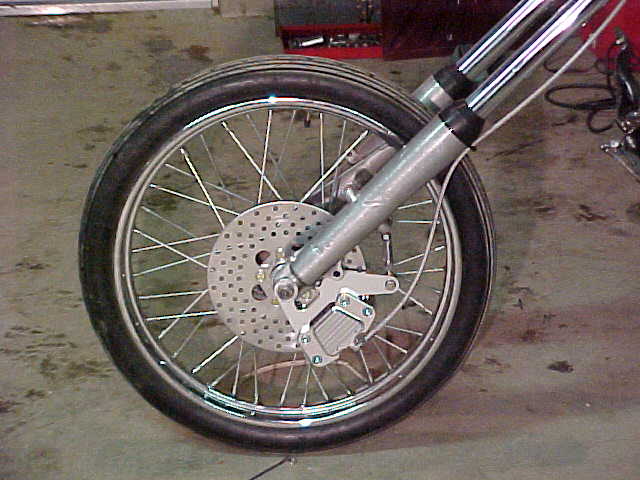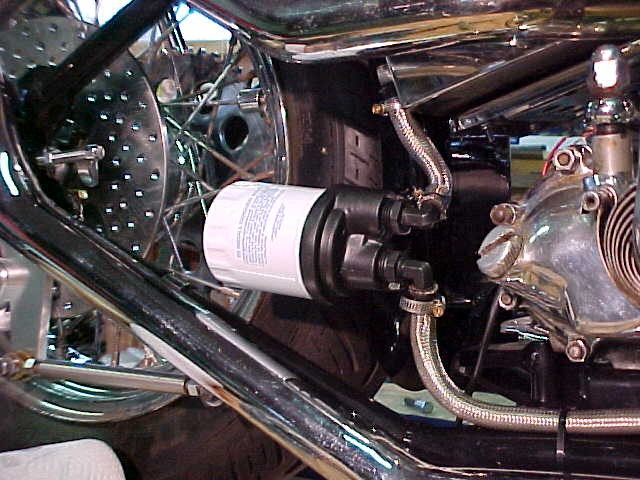 I found this oil filter mount at a swapmeet while in Daytona. It's bolted to the side of the flat rear fender. I have no idea what its off, but for $5 it works.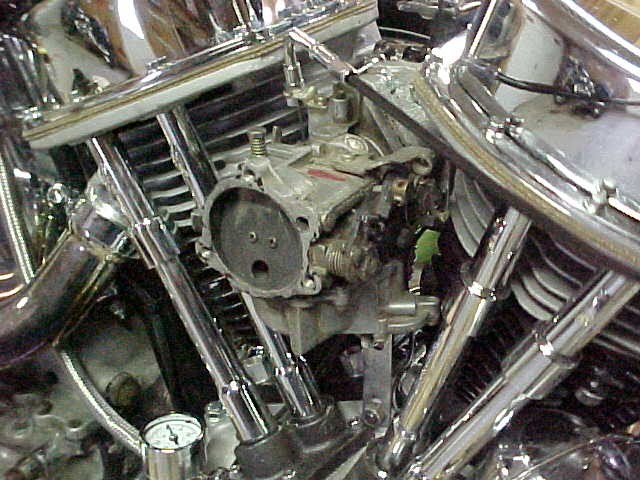 Nothing fancy here, an old Keihin carb I've had laying around for years.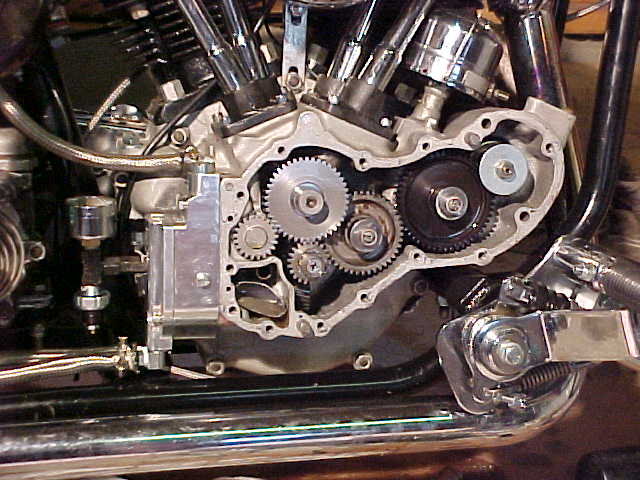 After 60 miles I wasn't happy with the oil pressure, it dropped to zero when hot, so I gave in and added another billet part, an S&S oil pump. It cured the problem, I now have 8-10 pounds of pressure at idle.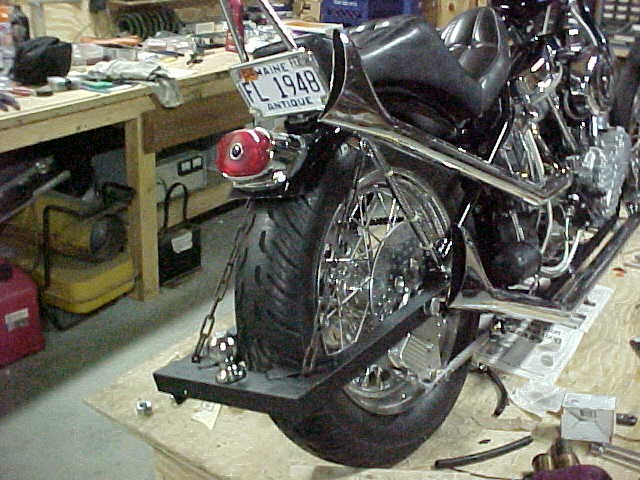 This is a trailer hitch I made out of angle iron for going to weekend rallies. It bolts behind the axle, and chains run to the sissy bar to take the tongue weight. I made the trailer out of a Sears cartop carrier. It carries 2 coolers, 2 sleeping bags, a tent, air matteress and pump, coleman lantern, 2 folding chairs, radio etc.
After a couple years of getting pulled over for high handlebars, stopping for gas every 75 miles and not being able to carry anything, I changed handlebars, tanks, pipes and added saddlebags, even added a front fender!.